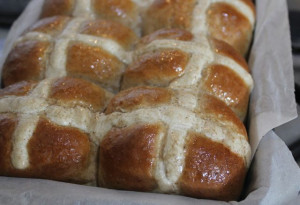 These are soft and spicy, just like store-bought buns and are best served warm, with lashings of butter.  This recipe is for "traditional" hot cross buns, which include fruit, however if you want to make them even more fructose-friendly, just omit the sultanas.
For the buns
350g plain flour
40g dextrose
1 tsp or 1 sachet (7g) dried yeast
1 tsp allspice
½ tsp cinnamon
½ tsp salt
40g sultanas, diced into smaller pieces
160 ml milk
50g butter at room temperature, coarsely chopped
1 egg
For the crosses
40g plain flour
3 tbsp water
For the glaze
25g dextrose
½ tsp mixed spice
2 tbsp water
To make the buns
Sift flour, dextrose, yeast, spices and salt into a mixing bowl.  Add sultanas.
Combine milk and butter in a small saucepan and gently warm over a low heat until butter melts and mixture is just warm.  You don't want the milk mixture to be too hot, as this will kill the yeast and your buns won't rise.
Add the egg to the milk mixture and whisk.
Make a well in the centre of the flour mixture, then add the milk mixture.
If using a mixer: With dough hook attached, mix on low-medium speed for about 6 minutes.  Turn the dough onto a lightly floured surface and knead by hand for 2 minutes until smooth.
If kneading by hand: Mix ingredients with a spoon to combine, then turn dough onto a lightly floured surface and knead for 10 minutes or until smooth.
Place dough in a lightly oiled bowl, cover with plastic wrap and stand in a warm place for 40 minutes or until doubled in size.
Line a 28cm x 18cm brownie tray, or similar, with baking paper and then lightly grease.
Knock back dough to release the air and divide into 8 equal pieces.
Knead each piece in your hand for a few seconds, then shape into a ball.
Place dough balls, slightly apart, in the tray and cover with a damp tea towel.
Stand tray in a warm place for 40 minutes or until buns have doubled in size.
Preheat oven to 210°C.
To make the crosses
Combine flour and water in a small bowl and stir to a smooth paste.
Spoon into a piping bag fitted with a fine nozzle. If you don't have a piping bag you can use a small sandwich bag.  Spoon the paste into the bag, pushing it down to one corner.  Cut a small section of the corner off and you have an instant piping bag.
Pipe lines down each row to form crosses.
Bake for 10 minutes, then reduce temperature to 190°C and bake for another 5-7 minutes* or until golden (if the buns sound hollow when tapped then they are ready).
Remove the buns from the oven.
To make the glaze
Combine the ingredients in a small saucepan.
Stir over medium heat until dextrose dissolves.
Bring mixture to the boil, reduce heat and simmer for 1 minute.  You may need to place a splatter guard over the pan, as the mixture does spit a bit.
Using a pastry brush, brush the glaze over the hot buns.
Transfer the buns to a wire rack to cool.
* Note:  dextrose can burn quickly.  If you need to cook the buns a little longer, keep a close eye on them – they can go from undercooked to burnt in a matter of minutes.