(Adapted from The Food Network)
Unexpected guests?  These bite-sized pastry treats can be whipped up in under 30 minutes.  For a savoury version, substitute finely grated parmesan for the dextrose and salt.
Makes approximately 15.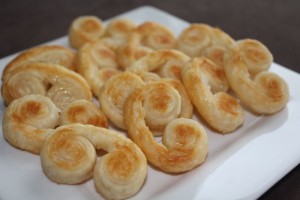 1 sheet ready rolled puff pastry
2 generous tbsp dextrose
Pinch of salt
Preheat the oven to 230ºC.
While the pastry is defrosting, mix the dextrose and salt together.
Spread about ½ of the dextrose mixture on a clean workbench and place the pastry on top.
Gently press down on the pastry so that the dextrose starts to stick.
Turn the pastry over and sprinkle almost all of the remaining dextrose mixture on top, spreading it as evenly as possible.
Tightly roll one end of the pastry into the middle, then roll the other side in.
Slice the pastry roll into 1cm slices and arrange on a lined baking tray.
Sprinkle any remaining dextrose mixture on to each slice.
Bake the palmiers for 5-6 minutes, then use a spatula to turn them over and bake for another 3-4 minutes until lightly golden.
Remove from the oven and place on a cooling rack.