(Recipe adapted from wellnourished.com.au)
These super simple biscuits are perfect with a cuppa on Christmas Eve, or crushed over fruit and whipped cream for a quick and festive Christmas Day dessert.
This recipe makes approximately 18 biscuits (we used a 7cm star cutter) 
90g plain flour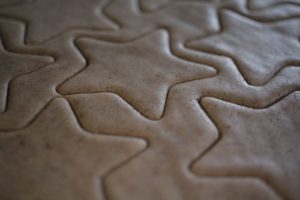 1 tsp ground cinnamon
3 tsp ground ginger
1/2 tsp all spice
1/4 tsp ground nutmeg
1/4 tsp ground cloves
1 tbsp dextrose
Pinch bicarbonate soda
Small pinch sea salt
25g coconut oil
50g rice malt syrup
15mL milk
Combine the dry ingredients in a mixing bowl.

In a separate microwave safe bowl combine the coconut oil and rice malt syrup.

Heat the coconut oil mixture in the microwave for 10-30 seconds until the coconut oil has melted (time taken will vary depending on your microwave).

Remove the coconut oil mixture from the microwave and leave to cool for a few minutes before stirring in the milk.

Add the coconut oil mixture to the dry ingredients and stir to combine; if the dough seems too sticky add a little more flour.

Shape into a flatish rectangle, wrap in baking paper and refrigerate for 30 minutes.

While the dough is chilling pre-heat your oven to 150°C (fan-forced).

Remove the dough from the refrigerator and place between two sheets of baking paper.

Roll the dough out until it is about 2mm thick and use any shaped cookie cutter to cut out your biscuits.

Collect the scraps, working quickly so as not to overheat the dough, roll out again until 2mm thick and cut out more biscuits.

Place your biscuits on a lined baking tray and then bake in the pre-heated oven for 8-10 minutes until golden on top.