(Adapted from Serious Eats)
Not everyone owns an ice cream machine, and with this recipe you don't need one.  This method delivers a velvety smooth and oh-so creamy result.  Made from a custard base, you can stop after step 5 and enjoy the custard as is, poured over stewed fruit, or made into a trifle!  The below quantity fits comfortably into 2 standard ice cube trays.  (If you have an ice cream machine, instructions are at the end of the recipe).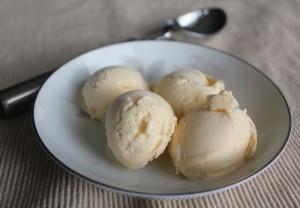 8 large egg yolks
140g dextrose
2 tsp imitation vanilla essence
¼ tsp salt
375mL evaporated milk
500mL thick cream (separated into 2 x 250mL quantities)
In a large bowl or stand mixer, whisk the egg yolks, dextrose, vanilla, and salt for about 5 minutes until thickened and pale yellow in colour.  The mixture should fall off the whisk in thick ribbons.
Meanwhile, heat the evaporated milk in a medium saucepan until it comes to a simmer then remove from the heat.
Slowly add the hot milk to the egg mixture, whisking constantly until fully incorporated.
Transfer the mixture to a medium saucepan and heat gently, whisking constantly, until it reaches 80°C (it should become quite thick). Do not overheat it or the eggs will scramble.
Strain the custard through a sieve to remove any lumps.
Transfer the custard to a suitable container and place in the refrigerator for about 1 hour, or until thoroughly chilled.
Whip 250mL cream until doubled in volume.
Add the whipped cream to the custard and gently fold in with a whisk until no lumps remain.
Pour the mixture into the ice cube trays and freeze for about 4 hours, or until solid.
Use a spoon or a dull knife to remove the frozen ice cream from the tray.
Combine the ice cream cubes with remaining 250mL cream in a food processor and process until smooth, about 30 seconds.
Scrape down sides of bowl and break up any lumps and process for another 30 seconds.
Transfer the ice cream to a suitable container, and freeze for at least 4 hours.  Remove from the freezer about 5 minutes before serving to allow the ice cream to soften enough to scoop.
If you have an ice cream machine you can still use this recipe.  At step 7, whip the entire 500mL of cream until doubled in volume then add the custard and whisk for another 1-2 minutes until fully combined.  Follow the manufacturers instructions for your particular ice cream maker.