Anzac biscuits get their name from the story that they were sent to ANZAC (Australian and New Zealand Army Corps) troops during World War 1.  As the recipe contained no egg, the biscuits did not spoil easily and were therefore suitable to send overseas.  Serve with your favourite tea or coffee, or put a scoop of ice cream between two biscuits for a simple dessert.  This recipe makes about 12-15 biscuits.
50g oats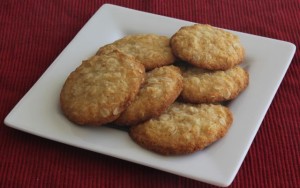 60g plain flour
35g coconut (shredded or desiccated)
65g dextrose
½ tsp bicarb soda
55g butter, melted
1 ½ tbsp rice malt syrup
1 tbsp boiling water
Combine all of the dry ingredients in a medium mixing bowl.
Melt the butter in a separate bowl, then stir in the rice malt syrup and water.
Using a wooden spoon, stir the butter mixture into the dry ingredients – at this point the dough will be quite crumbly.
Use your hands to bring the dough together and shape tablespoon-sized amounts into balls, flattening them slightly.
Place the dough balls onto a lined baking / biscuit tray, leaving plenty of room between each one as the dough will spread.
Place the tray of dough balls into the refrigerator for around 10-15 minutes.
Meanwhile, pre-heat the oven to 180°C.
Remove the tray from the refrigerator and place into the pre-heated oven.
Bake for 12-15 minutes*, until golden brown.
* Note:  dextrose can burn quickly.  If you need to cook the biscuits a little longer, keep a close eye on them – they can go from undercooked to burnt in a matter of minutes.