(Adapted from Primal Living)
This moist and delicious cake contains no flour and no dairy.  Served warm or at room temperature, this cake is perfect as-is or with some cream poured over the top.  Makes 1 small (20cm x 2cm) cake.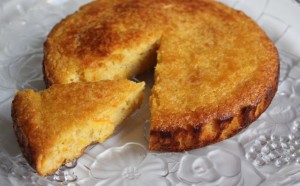 1 whole orange
3 eggs
½ cup rice malt syrup
¼ tsp imitation vanilla essence
125g almond meal
½ tsp baking powder (gluten free)
Coconut oil or olive oil for greasing
Wash the orange and submerge in a saucepan of water.
Bring to a boil and then simmer for 2 hours to soften the skin.  Top up with water as needed to keep the orange submerged.
Remove the orange from the saucepan and allow it to cool for 10-15 minutes.  Cut the orange into small pieces, including the skin.
Puree the orange pieces.  Using a sieve, allow some of the juice to drain from the puree for 3-5 minutes.
Preheat the oven to 160°C (fan-forced).
Grease a 20cm springform cake tin.  Line with baking paper and set aside.
Whisk the eggs and rice malt syrup in a medium bowl.
Stir in the orange puree, vanilla essence and almond meal.
Gently fold in the baking powder until just combined.
Pour the mixture into the prepared cake tin and bake for about 1 hour.
Leave the cake to cool in the tin for 5 minutes before turning onto a cooling rack.