Guests will ask you to make this delicious dessert again and again.  They are a perfect summer treat when mangoes are in season.  If fresh mangoes are unavailable frozen pieces can also be used, just check the ingredients to ensure no added nasties and defrost before using.  Makes 6-8 pancakes.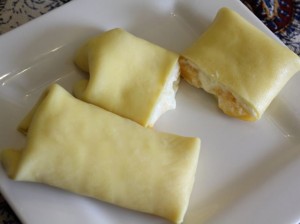 3 eggs
2 tbsp dextrose
125mL milk
50g plain flour, sifted
Pinch salt
½ tsp imitation vanilla essence
2 tbsp extra light olive oil or vegetable oil
2-3 drops yellow food colouring (optional)
150mL thickened cream
2 tbsp dextrose, extra
1-2 ripe mangoes, thinly sliced
Whisk together the eggs and 2 tbsp of dextrose, then add the milk.
Slowly add the sifted flour and salt, whisking constantly.
Add the imitation vanilla essence, oil and food colouring and gently whisk to combine.
Push the batter through a sieve to remove any lumps; the batter should be quite runny.
Cover the batter and leave it to rest at room temperature for about 30 minutes.
After resting the batter, heat a medium frypan over a low heat (depending on the pan, a very thin coating of oil may be necessary, however the oil in the batter should be enough to stop the pancakes sticking).
Pour a small amount of batter into the frypan and tilt the pan to distribute the batter, creating a thin pancake (we used a ¼ cup measuring cup, not quite filled).
Cover the pan and cook for 2-3 minutes until the pancake is cooked.  Do not flip or overcook the pancake; it should be smooth and shiny on top.
Transfer to a plate or cooling rack while cooking the remaining pancakes.  Place in the fridge to cool for 30 minutes (to stop the pancakes sticking to each other, place a piece of baking paper between each one).
Meanwhile, whip the cream and extra 2 tbsp of dextrose until firm.
To assemble, spoon a little cream onto the bottom/fried side of the pancake, top with a couple of slices of mango and a little more cream.
Fold the sides in, then roll up and place seam-side down.
Place in the fridge for 10-15 minutes before serving.