(Adapted from The Stone Soup)
This granola is slightly unusual because instead of using rolled outs, lentils are the main ingredient.  It is delicious on its own as a type of trail mix, or serve with plain yoghurt for a high-protein breakfast.  If you would prefer the more traditional granola, you can replace the lentils with oats – just use 250g of oats and skip steps 2 & 3.  The quantity below yields about 2 cups.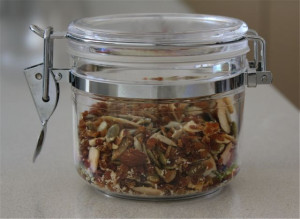 125g red lentils
4 tsp rice malt syrup
1 tsp imitation vanilla essence
1/2 tsp ground cinnamon
1 tbsp light olive oil or macadamia oil
30g mixed nuts (such as cashews, almonds & Brazil nuts)
30g pepitas (pumpkin seeds)
30g sunflower seeds
25g shaved or shredded coconut
Preheat your oven to 150°C.
Cook the lentils in a pot of boiling water until just tender (about 5 minutes).
Drain the lentils and spread them out on a tray to dry and cool.
In a medium pot combine the rice malt syrup, vanilla essence, cinnamon and oil.  Gently heat for about 30 seconds.
Remove from the heat, add the lentils, seeds and nuts, and stir to combine.
Line a cookie sheet or similar with baking paper and spread the mixture out evenly.
Bake for around 50 minutes or so, stirring every 10 minutes.  Keep an eye on it, as at this point the mixture should be almost dry and starting to turn golden.
Add the coconut and bake for another 10 minutes.
Remove the tray from the oven and allow the mixture to cool completely before storing in an airtight container.