(Adapted from David Lebovitz's Vanilla Ice Cream in The Perfect Scoop)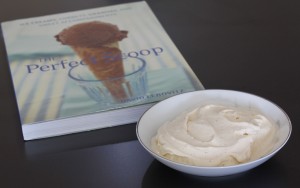 There is something decadent about French-style vanilla ice cream.  It could be the extra smoothness due to the eggs, or the fact that it takes a little bit of effort to make.  Either way, this recipe is divine.
Separating the eggs between steps 3 & 4 keeps them fresh for as long as possible.
250mL full cream milk
130g dextrose
600mL thickened cream (minimum 35% milk fat)
Pinch of salt
1 scant tsp vanilla bean powder* or seeds scraped from one vanilla pod
6 large egg yolks
1 scant tsp imitation vanilla essence
Ice, to make an ice bath
Place 300mL of the cream, the milk, dextrose, and salt in a medium saucepan.  Warm over a low-medium heat, stirring gently, for about 5 minutes.  You only want it warm, do not let it boil.
Add the vanilla bean powder or seeds and stir to combine.
Cover and remove from the heat; set aside at room temperature for around 20 minutes.
When the 20 minutes is almost up, pour the remaining 300mL of cream into a large bowl and set a metal strainer over it.  Place this bowl over an ice bath.
In a separate medium bowl, whisk the egg yolks, then slowly pour the warm milk mixture into the yolks, whisking constantly until well combined.  If you don't have someone helping you, try setting the bowl with the egg yolks on a damp tea towel to help keep it stable while whisking the milk mixture in.
Pour the warmed egg mixture back into the saucepan, making sure you scrape as much out of the bowl as possible.  Stir the mixture constantly over medium heat with a heatproof spatula, scraping the bottom as you stir.
Once the mixture thickens (i.e. when it starts to coat the spatula), remove from the heat and pour through the strainer into the cream.  Add the vanilla essence and stir until cool.  Depending on the type of bowls used and the temperature of your ice bath, this could take anywhere from 5-15 minutes.
Place the mixture into a suitable container and chill in the fridge for at least 8 hours or overnight.
When ready to churn, freeze in your ice cream maker according to the manufacturer's instructions.  We used the KitchenAid ice cream bowl attachment on speed 1 for 20 minutes.
Depending on the brand of ice cream maker used, your ice cream may have the consistency of soft serve.  If you would like it firmer, place the ice cream in a suitable container and freeze until required.
* We used Loving Earth Organic Vanilla Bean Powder – available from select stores or order it online direct from Loving Earth, who are based in Melbourne, VIC.