This recipe has been tweaked from one on the Sweet Poison forum.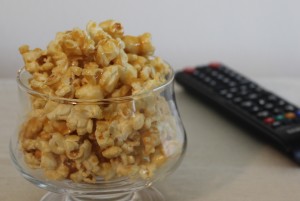 1 packet microwave popcorn, original flavour
125g butter
1/2 cup dextrose
2 tablespoons rice malt syrup
Make popcorn as per packet instructions; discard any uncooked kernels and place popped corn into suitable heat-proof bowl (the caramel will be very hot).
Combine butter, dextrose and rice malt syrup in a saucepan over medium heat. Cook, stirring, for 5 minutes or until dextrose has dissolved.
Bring mixture to the boil and boil uncovered without stirring, for 5 to 7 minutes or until light golden. The mixture will thicken as it boils – so resist the urge to stir it.
Remove from heat. Pour over popped corn and stir immediately to coat.
Wait a few minutes (if you can) until the caramel has cooled slightly.
Enjoy with your favourite DVD!
This is a pretty big serving – too much for 1 or 2 people.  Leftovers can be stored in an airtight container for 2-3 days.