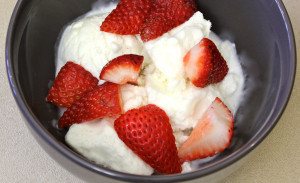 Think a recipe with only three ingredients is going to be bland?  Boring?  Think again!  By itself on a hot day, or served with fresh fruit for a light dessert, this frozen yoghurt is so easy to make but tastes amazing.
750mL full fat natural or Greek yoghurt
200g dextrose
1 tsp imitation vanilla essence
Mix all ingredients together.
Chill for 45-60 minutes.
When ready to churn, freeze in your ice cream maker according to the manufacturer's instructions.  We used the KitchenAid ice cream bowl attachment on speed 1 for 20 minutes.
Enjoy as is or freeze until firm.
Note:  This mix will freeze quite firm; remove it from the freezer 10-15 minutes before required so that it softens a little.